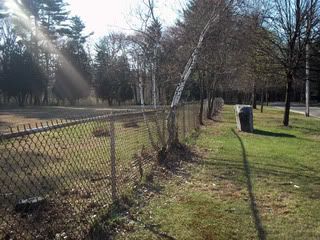 Burial grounds in New England boast a wide variety of markers, from traditional stones, to crosses, to flat plaques, benches, raised tables and even obelisks. But what of a graveyard with no visible markers whatsoever?
Bay Path Cemetery in Springfield, Massachusetts is one such "stoneless" yard. Also called the Almshouse Burial Grounds, Bay Path Cemetery is home to nearly a thousand former residents of the town poorfarm and the old Municipal Hospital. Giving every impression of an empty lot, the small cemetery sits on a corner of Blunt Park by Roosevelt Avenue. It is surrounded by a low chain-link fence with locked gates, and contains a solitary stone marker bearing an inscription from Matthew: "Blessed are the poor in spirit, for theirs is the kingdom of heaven."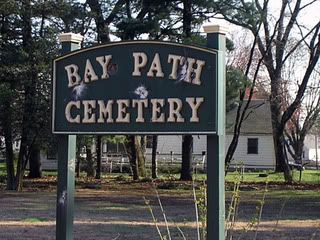 From 1873 to 1951, the poor were interred without fanfare within the approximately 100 foot by 200 foot yard. The modest markers did not bear names, but were instead engraved with numbers which could be matched up to entries in a handwritten book, now housed at the Connecticut Valley Historical Museum in downtown Springfield. At times, these entries were far from complete; sometimes even names were omitted. The listings for many of the children buried at Bay Path simply read "Infant". Potter's Fields are not used any longer, since the state ordained in the early 1950's that even the indigent must be given a proper burial in a public cemetery.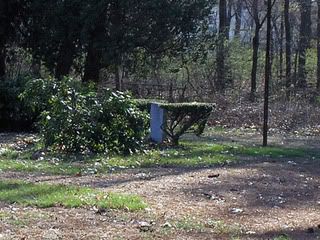 Since the close of the poorfarm in 1952, maintenance of the grounds has been sporadic, at best. Even the numbered markers have been all but lost, due to many years of neglect. Though the lot has been reclaimed from the thick overgrowth in recent years, the clay markers still lie several inches below the surface.
Bay Path Cemetery and its denizens have been all but disregarded by most Springfield residents. Save the efforts of a few who strive to preserve and record these memories, we would never have known this cemetery existed. But for the sign out front, the city's lost and forgotten would surely stay that way.
A Potter's Field In Springfield